Spring Cleaning Your Data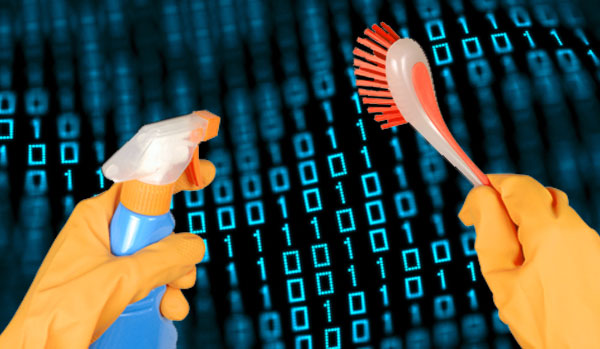 The days are longer, the birds are singing and the temperature is on the rise. These welcome signs of spring remind us it's time to clean the patio, uncover the grill and air out the house. Spring cleaning is an annual ritual of renewal. It's also a good time to address those nagging data issues.
Over time, data gets cluttered, disorganized and less useful – compelling you to clean it up. Here are some places those digital dust bunnies are hiding.
Appropriate access to information
Do people have access to the reports they need? There is a likelihood that their access has eroded over time. People change jobs — taking on new roles and leaving former tasks behind. Yet they may retain access to reports and data they no longer need — leading to clutter and/or a security risk. It's also possible they are unaware of vital reports that would improve their performance. Refreshing access can improve both efficiency and safety.
Dust off the definitions
Dictionary definitions, master files and org charts get "dirty" more quickly than you would expect. The more they get out of synch with your organization, the more inconsistencies they create in your reports. And the more inconsistencies your end users encounter, the less they trust the data. It may take a while before the erosion becomes visible but the cost to the organization can add up quickly.
Remove the clutter
Think of the all the reports you have. It's likely you have hundreds. Most people find the list overwhelming. Often they can't find the information they need or they get confused about which report to use. It's best to apply "closet cleaning rules" to this nasty mess.
Organizing gurus recommend if you haven't used an item in the last 6-12 months, then get rid of it. The same applies to a report. If no one has used it recently, then get rid of it. There are two choices – delete it or archive it. Why let it take up prominent space and add to the clutter? Simplify.
If you haven't used an item in the last 6-12 months, then get rid of it. The same applies to a report.
Free up time & resources
Reports require precious processing time. Most hospital information systems rely on a day-end processing to move data from the transactional systems to the data warehouse. By removing unused reports from the processing schedule, day end can finish sooner. And by sweeping away "dead" data, overall performance is improved and storage space is available for more important uses.
Assess your capabilities
Once you have your data polished and organized, do you have what it takes to keep it that way? A good data strategy is a starting point. Make sure it has the key elements of clear data ownership and a documented process for the upkeep. This creates a place for everything and identifies the person who is responsible to keep everything in its place.
Hire a service
Of course, many busy homeowners outsource their cleaning chores to professionals. You can do that with your data reporting chores, too. Polaris Strategic Solutions is an excellent option. We not only create custom reports specifically for hospitals, we clearly document definitions of data sources, processes and ownership.
We organize reports for the entire enterprise in a single, easy-to-use system with maximum efficiency and style.
We use our audit tool to help our customers easily review their data access landscape so they can add and delete both users and reports as appropriate.
Just as spring cleaning brings a feeling of accomplishment and order, the Polaris service will help you feel renewed. Organized, happy, efficient – that's the goal.