Missed Our Webinar? Here's the Recording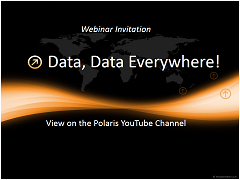 Is your report backlog growing beyond your capacity? Do users complain of slow turnaround? Are you having trouble finding staff with the necessary skills in report construction, data analytics and healthcare enterprise-wide reporting?
Many organizations find they have a myriad of reporting initiatives but struggle to bring them together into a cohesive and lasting system. They have invested in data warehouses, dashboards, KPIs and business intelligence but are underwhelmed by their usefulness.
As a result, people spend hours generating spreadsheets that are often inconsistent and little used.
At Polaris Strategic Solutions we have deep domain knowledge in healthcare decision support. We have a great deal of experience that we've honed over decades.  Experience we apply daily toward solving your toughest reporting challenges.
We recently held a webinar where we shared a myriad of tips you can use immediately to up your game and improve your results. We also showed ways we've been able to solve these types of issues for our customers along with the essential elements for developing a reporting solution that works at every level. The end result — a blueprint for an effective, coordinated and automated system.
You can watch a recording of this webcast at Video on Polaris' YouTube Channel