How SVMC's Award-Winning Transitional Care Nursing Program is Closing the Healthcare Gap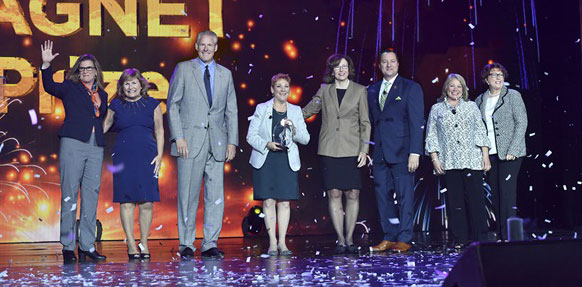 Since 1918, Southwestern Vermont Medical Center (SVMC) has served generations of patients in Vermont, New York and Massachusetts. And throughout its celebrated history, SVMC has successfully adjusted and adapted to numerous changes on the healthcare landscape; everything from shifting demographics and patient populations, to new medical technologies and innovative approaches to care.
However, SVMC recognized that in order to continue fulfilling its promise of providing exceptional, convenient and affordable care, it had to address a crucial challenge that many hospitals across the country are facing with unprecedented intensity and urgency: as care moves from inpatient to outpatient settings and into the community, how must they refocus to meet the increasing need for resources outside hospital walls?
That's the pragmatic — and profound — question that Billie Lynn Allard, RN, SVMC's Administrative Director of Nursing for Community Health and Putnam Medical Group and her colleagues began exploring in 2012. Their goal was to generate fresh insights and best practices. Little did they realize that they were embarking on a journey that would revolutionize care for SVMC's patient population, empower and re-energize nursing staff, foster synergistic community partnerships, and earn the coveted American Nurses Credentialing Center (ANCC) Magnet Prize™.
Coming Together to Find Solutions
Now in its fourth year of operation, SVMC's Transitional Care Nursing Program — which is managed through the hospital's Accountable Community for Health Project — seeks to close the gaps that patients can encounter when they leave the hospital, and which often lead to preventable readmissions that not only drain limited resources and drive up costs, but more importantly, threaten and undermine patient health and well-being. These pitfalls run the gamut from confusion over discharge instructions, medication mismanagement, failing to spot the early warning signs of a health problem, and not being aware of available community resources.
"From the outset, we invested time to help our partners in the community — such as home care organizations, medical homes, councils on aging, and more — grasp and appreciate that our goal was to enhance rather than duplicate their resources," commented Allard. "We also generated buy-in and gathered input from physicians, inpatient case managers, psychologists, dieticians, social workers, patient advocates, caregivers and other key stakeholders; all of whom played an invaluable role in helping us understand what we needed to do differently, and how we could all work together to be part of the solution."
How the Program Works
The model that Allard and her team implemented — and which in 2014 earned a $400,000 grant from the Vermont Health Care Innovation Project — begins with a SVMC transitional nurse partnering with a local primary care office to identify patients who are at-risk for readmission, such as those with chronic conditions and substance addictions, as well as individuals who face barriers such as functional deficits and socioeconomic disadvantages.
Transitional care nurses (TCN) seek to meet patients at their home typically within 24 to 48 hours after hospital discharge. Through partnership they schedule subsequent home visits over a period of approximately 90 days; some patients require shorter or longer care encounters. During visits the TCNs detect and close the above-noted hospital-to-home gaps, for example: creating a healthy routine, organizing and simplifying medication management, providing guidance on symptom identification, engaging and educating caregivers, making recommendations and facilitating referrals to relevant community resources, and serving as a critical communication bridge between the hospital and the patient's primary care physician so that each has accurate, up-to-date and actionable data about a patient's history.
Healthy Data, Healthy Patients
Nurses who have spent the last few years going to battle with their EHR system and various databases, and who dejectedly wonder when and why "Data Scientist" was surreptitiously added to their job description, will be forgiven for interpreting the last part of the previous paragraph as less of an ambition, and more of an impossibility. Indeed, the quest for accurate, up-to-date and reliable data across multiple departments and providers might be the most elusive — and exhausting — in the hospital information ecosystem.
And so, the big, booming question is: how did SVMC generate "healthy data" that would efficiently drive the program forward vs. bog it down and hold it back? The answer wasn't to spend hundreds of thousands or millions of dollars (which was not a viable option, regardless) on yet more new hardware and software. Rather, it was to get expert help in turning raw information into actionable intelligence. That is where Polaris Strategic Solutions entered the picture.
The answer was to get expert help in turning raw information into actionable intelligence.
Polaris' tagline is "shining light on healthcare analytics" – which in SVMC's case, meant creating dashboards that automatically pulled in data from disparate clinical and financial systems, and generating reports that highlighted key program metrics such as patient location, nurse visit details, ED visits, readmission rates, services usage (e.g. MRIs), referral patterns, and so on.
"We needed the capacity to see what we were doing in the community, monitor our progress and trends, and generate quantitative ," commented Gail Balch, SVMC's Director of IT and Clinical Informatics. "It wasn't enough for us to strive to make a positive impact in the lives of our patients, while at the same time improve efficiencies, optimize resources, and lower costs. We had to prove to ourselves, and demonstrate to our leadership team, that the Transitional Care Nursing Program was justified and that it worked. Polaris was pivotal in making this happen for us in a highly consultative and cost-effective way."
"Before Polaris, our nurses were manually compiling and entering data in our system, which was, tedious and time consuming," commented Katharine Murphy, BS, RN, SVMC's Transitional Care Coordinator. "The Polaris team worked closely with us to thoroughly understand our challenges and objectives, and develop targeted data management solutions that addressed our specific needs. Polaris remains an important and valued partner, and a key part of our Program's success and growth."
"In the healthcare analytics world, so much time is spent on complex configurations and customizations, that it's easy to lose sight of the fact that the effort is fundamentally about empowering healthcare professionals and making their jobs easier and more rewarding, not harder and more stressful," commented Patrick (Pat) Frye, CPHIMS, Polaris' Vice President. "Our ongoing partnership with SVMC is an inspiring demonstration of the fundamental fact that healthy data helps enable healthy patients. It remains an honor to work with Gail, Billie Lynn, Katharine and their colleagues at SVMC. The visionary work that they're doing is changing lives and, in some cases, literally saving them."
Healthy data helps enable healthy patients.
Remarkable Results
To date, the results of SVMC's Transitional Care Nursing Program have been nothing short of remarkable. For example, since launching the Program overall hospitalizations are down a staggering 52.4 percent at six months and 43 percent at one year, and Emergency Department visits are down 12.1 percent.
What's more, these dramatic gains have convinced some initially (and understandably) skeptical nurses and community organizations to become some of the Program's most vocal advocates and champions. SVMC is also getting an ongoing stream of requests from hospitals around the country for guidance on how they can close the hospital-to-home gaps in their communities.
The Program also has impressed the ANCC, which awarded SVMC the 2017 Magnet Prize™. Bestowed annually to one Magnet organization worldwide and sponsored by Cerner, the coveted award recognizes extraordinary innovations that transform work environments, generate peak performances, and can be applied across multiple settings. It also comes with a $50,000 purse to support continued work on the project.
"ANCC is proud to recognize Southwestern Vermont Medical Center for its extraordinary work through their innovative Accountable Community for Health Project," stated Jeff Doucette, DNP, Vice President of the Magnet Recognition Program® & Pathway to Excellence® Program in a press release announcing the win. "It is always exciting to see nurses leading the way and working in such a collaborative manner to improve delivery of care for their patients."
Achieving the Triple Aim
Ultimately, SVMC's Transitional Care Nursing Program represents a progressive, practical, sustainable and scalable way to achieve the IHI's triple aim of: improving the patient experience of care, improving the health of populations, and reducing the per capita cost of health care.
Comments Allard: "While our Program certainly isn't the only piece of the puzzle, it's an important strategy that helps all of us work towards a better and stronger healthcare system, whether we're delivering healthcare on the frontlines or behind the scenes. It's what we owe to our patients, our communities, our colleagues, and ultimately, to ourselves as professionals who truly care — and always will!"
About Southwestern Vermont Health Care
Southwestern Vermont Health Care (SVHC) is a comprehensive, preeminent health care system providing exceptional, convenient, and affordable care to the communities of Bennington and Windham Counties of Vermont, eastern Rensselaer and Washington Counties of New York, and northern Berkshire County in Massachusetts. SVHC's providers are members of the Dartmouth-Hitchcock Putnam Physicians, a multispecialty medical group operated in partnership with Dartmouth-Hitchcock. SVHC includes the Centers for Living and Rehabilitation, a 150-bed long- and short-term care skilled nursing facility; the SVHC Foundation; and Southwestern Vermont Medical Center (SVMC), a 99-bed community hospital. SVMC's services include an emergency department staffed by physicians each of whom is board certified in emergency medicine; the Southwestern Vermont Regional Cancer Center, which is accredited by the American College of Surgeons Commission on Cancer and managed by Dartmouth-Hitchcock; and a fully-digital imaging department. SVMC also includes 19 primary and specialty care practices and primary care offices in Bennington, Manchester, Pownal, West Dover, and Wilmington, VT. To learn more, visit svhealthcare.org.
About Polaris Strategic Solutions
Polaris is a Healthcare Analytics service specializing in custom reports and dashboards for Quality & Value, Clinical Productivity, Financial Optimization, Physician Performance, Population Health and much more. To learn more visit http://www.polarisstrategic.com.